2012 Les Paul Award:
Pete Townshend
Named for one of the industry's most revered personalities, the Les Paul Award was created in 1991 to honor individuals or institutions that have set the highest standards of excellence in the creative application of recording technology.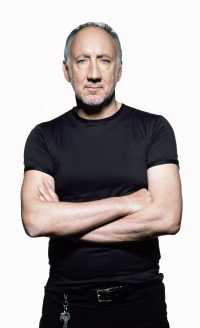 photo: Ross Halfin
This year's Les Paul Award recipient, Pete Townshend, has enjoyed one of the most intriguing, respected and multifaceted careers of any artist in the rock and roll era.
The outline of his life in music is well-known. As the leader/guitarist/main songwriter for The Who for close to five decades now (with a few breaks), he has produced songs and albums that will endure long beyond our own lifetimes. The Who were the original mod band, coming onto the scene in the wake of The Beatles, and a true force of nature unlike any other group playing the clubs in England at the time. No other band boasted a drummer as explosive as Keith Moon, a bassist as inventive as John Entwistle, a singer with the pipes of Roger Daltrey or a guitarist and songwriter as vital and energetic as Pete.
Their early hits were brimming with youthful vitality and power: "I Can't Explain," "My Generation," "Substitute," "Pictures of Lily," "I Can See for Miles," "Happy Jack." Each was completely different from the others, yet all were branded with that unmistakable Who chemistry. And that was just their formative years.
By the time the group gets to Pete's immortal rock opera, Tommy, in 1969, their classic Who's Next LP two years later, and what many consider to be Pete's true masterpiece, Quadrophenia, in 1973, the band was widely recognized as one of the best in the world. Their dynamic live shows became legendary—and not just because Pete sometimes closed performances by theatrically smashing his guitar (a spectacle immortalized in the films Monterey Pop and Woodstock). These cats could really rock; Pete's "windmill" strums, Roger's microphone slinging and Keith's sometimes goofy antics were just icing on top of non-stop soul-stirring group interplay.
The original quartet continued to make exciting music together through their smash 1978 album, Who Are You. Unfortunately, Keith Moon died in September of that year. Still, the group carried on with drummer Kenny Jones for a couple more years and albums before disbanding for the first time in 1983. In the years since, the group has reformed several times, usually augmented by additional players, and embarked on several very successful tours. John Entwistle passed away in 2002, but Pete and Roger have soldiered on, even rockin' the Super Bowl half-time show a couple of years ago.
Pete has also made a number of excellent solo albums since the early '70s, affirming that in addition to being an incredible guitarist, he is also a nuanced and emotive singer (and a multiinstrumentalist adept at keyboards and other instruments). His 1980 opus, Empty Glass, which included the radio favorite "Let My Love Open the Door," easily stands among his finest works. But all of his solo albums, including ambitious story-based works such as White City: A Novel, The Iron Man: A Musical and Psychoderelict, contain amazing songs that are overflowing with humanity and give us fascinating glimpses of his unique and complex worldview.
A fine writer, as well as one of the most thoughtful and articulate interview subjects a journalist could ever hope to find, Pete has championed many worthwhile causes through the years, playing countless benefits and lending his voice to those in need. He could have rested on his laurels and packed it in long ago, but this restless, gifted and endlessly creative talent has kept moving forward—finding that next song, expressing that next thought that will tell us more about the joy and mystery and, yes, the pain, that is part of being alive in this time.
—Blair Jackson
2012 Pete Townshend
---
Past RECIPIENTS:
2011 Steve Vai
2010 Lindsay Buckingham
2008 Ray Benson
2007 Al Kooper
2006 Steve Miller
2005 David Byrne
2004 Jimmy Jam & Terry Lewis
2003 Bruce Springsteen
2002 Robbie Robertson
2001 Steely Dan
2000 Paul McCartney
1999 Sting
1998 Neil Young
1997 Stevie Wonder
1996 Brian Wilson
1995 Alan Parsons
1994 Herbie Hancock
1993 Peter Gabriel
1992 Bob Clearmountain
1991 Bob Ludwig
---