2010 Les Paul Award:
Lindsey Buckingham
Named for one of the industry's most revered personalities, the Les Paul Award was created in 1991 to honor individuals or institutions that have set the highest standards of excellence in the creative application of recording technology.
The prodigiously talented Lindsey Buckingham, the singer/songwriter, multi-instrumentalist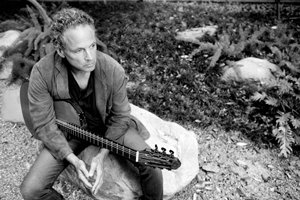 and producer behind the most successful lineup of Fleetwood Mac—as well as a sterling solo career—is a natural choice for the Les Paul Award honor.
Lindsey Buckingham's career began to take off when he and Stevie Nicks joined Fleetwood Mac's core lineup of drummer Mick Fleetwood, bassist John McVie and keyboardist/singer Christine McVie in early 1974. The former blues band, with the addition of "Buckingham Nicks," immediately morphed into a pop hit-making wonder. The group's eponymous album, produced by Keith Olsen, contained smash singles including Buckingham's "Monday Morning," "World Turning" and "I'm So Afraid."
However it would be their next album, 1977's Rumours, that would launch the group into the pop stratosphere, propelled by Lindsey's tunes, "Go Your Own Way" and "Second Hand News." This time, the band produced—along with Ken Caillat and Richard Dashut—with Buckingham taking an increasingly active role in the studio, spending hundreds of hours crafting the songs and arrangements. Rumours remains one of the best selling discs of all time.
Over the next several years, Buckingham was the principal producer on all of Fleetwood Mac's projects, including the experimental double-album, Tusk, Mirage and Tango in the Night. In the early '80s, Buckingham launched his solo career with Law and Order, which spawned the Top Ten hit "Trouble." Other solo hits included "Go Insane" and "Holiday Road."

Buckingham's career has continued to flourish—his critically acclaimed Under the Skin came out in 2006 and was followed by the exceptional DVD, Live at the Bass Performance Hall. His latest release, "Gift of Screws", came out on September 16, 2008, which will be followed by his new solo project, scheduled for release in early 2011.
2010 Lindsey Buckingham
---
Past recipients:
2008 Ray Benson
2007 Al Kooper
2006 Steve Miller
2005 David Byrne
2004 Jimmy Jam & Terry Lewis
2003 Bruce Springsteen
2002 Robbie Robertson
2001 Steely Dan
2000 Paul McCartney
1999 Sting
1998 Neil Young
1997 Stevie Wonder
1996 Brian Wilson
1995 Alan Parsons
1994 Herbie Hancock
1993 Peter Gabriel
1992 Bob Clearmountain
1991 Bob Ludwig
---