2005 Les Paul Award:
David Byrne
Named for one of the industry's most revered personalities, the Les Paul Award was created in 1991 to honor individuals or institutions that have set the highest standards of excellence in the creative application of recording technology.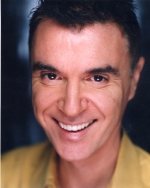 Musician/composer David Byrne entered the airwaves in the '70s as the front man and co-founder of Talking Heads, a band whose syncretistic style and visual stage imagery broke new ground in popular music. His work with Talking Heads, solo albums, and other collaborative works comprise more than 40 recorded projects. Byrne has composed music for a variety of theatre productions and for numerous films including The Last Emperor, which won the 1987 Oscar for Best Original Score. He also directed the feature True Stories, and has written and/or produced a variety of documentary films. The breadth of his work, incorporating a diversity of sonic elements and musical traditions, epitomizes the creative application of audio technology honored with the Les Paul Award. For the seventh consecutive year, the Les Paul Award is being sponsored by Gibson Guitar Corp. of Nashville, TN.
2005 David Byrne
---
Past recipients:
2004 Jimmy Jam & Terry Lewis
2003 Bruce Springsteen
2002 Robbie Robertson
2001 Steely Dan
2000 Paul McCartney
1999 Sting
1998 Neil Young
1997 Stevie Wonder
1996 Brian Wilson
1995 Alan Parsons
1994 Herbie Hancock
1993 Peter Gabriel
1992 Bob Clearmountain
1991 Bob Ludwig
---