2007 Les Paul Award:
Al Kooper
Named for one of the industry's most revered personalities, the Les Paul Award was created in 1991 to honor individuals or institutions that have set the highest standards of excellence in the creative application of recording technology.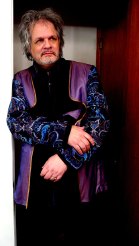 In 2008 he will celebrate his 50th year in the music business; Al Kooper has certainly seen it all, and he's one of a handful of greats who has done it all, too. Growing up in Queens, New York, he was a self-taught piano player and guitarist who loved blues, gospel and R&B music. Like so many kids in the late '50s, he put in untold hours on street corners harmonizing with friends in makeshift doo-wop groups, but unlike most of his buddies, Al went pro: By the time he was 14 he had joined the Royal Teens (of "Shorts Shorts" fame) as a guitarist, and there was no turning back from there. He slowly became a session guitarist—producers "would hire me to get that 'dumb kid sound,'" he joked. And the precocious and prodigiously talented Kooper also got into songwriting at an early age, scoring hits in the early 60s with "I Must be Seeing Things" for Gene "Town Without Pity" Pitney, and "This Diamond Ring," a song he co-wrote for The Drifters, who passed on it, and then became a Number One smash for Gary Lewis & the Playboys. But the trajectory of Al Kooper's career was about to change.

In the spring of 1965, a producer he'd befriended, Tom Wilson, invited Al to come down to the studio and check out a session with Bob Dylan, who was cutting his ground-breaking Highway 61 Revisited album. Kooper bluffed his way onto the session and ended up laying down the immortal organ line for Dylan's epic "Like a Rolling Stone." This began a long association with both Dylan and guitarist Mike Bloomfield, who was also on the session, and it led to Kooper becoming one of the most in-demand session players in rock.
Al was a member of the highly influential band The Blues Project, but by 1967 had moved on to form a group that encompassed his progressive vision of mixing, rock, jazz and blues, Blood Sweat & Tears. Their landmark debut, Child Is Father to the Man, showed the true breadth of his talent, and though he stayed in the band for just that one album, it solidified his standing as one of popular music's most exciting and versatile figures. His independent studio work continued unabated, too, as he dashed between sessions by the likes of Jimi Hendrix, the Stones, The Who, Taj Mahal, B.B. King and scads of others, and somehow also managed to cut a couple of classic LPs with Bloomfield including the classic top ten Super Session, the first rock jam album. Eight solo albums followed from the late '60's to the mid'70's.
With his great ears, unbeatable connections and tremendous enthusiasm for all types of music, it was natural for Al to move into A&R and production. In the late '60s, he talked Columbia Records out of dropping The Zombies just in time for their timeless smash "Time Of The Season," and in the early '70s discovered the great Southern rock band Lynyrd Skynyrd, producing their first three albums for his own MCA imprint, Sounds of the South, including the hits "Free Bird" and "Sweet Home Alabama." He also produced the likes of Joe Ely, The Tubes' first album, B.B. King, Nils Lofgren and Lenny White, all the while keeping a busy schedule as a session ace. As West Coast A&R director for PolyGram, he helped sign Richard Thompson, at the same time as baby-sitting Bon Jovi and Tears For Fears.
He branched out into scoring TV series when he was hired to score and pick records for Michael Mann's acclaimed Crime Story. By the late '80s, he says he considered himself "semi-retired," but that didn't stop him from touring with Joe Walsh, acting as musical director for a Ray Charles 50th-anniversary TV special and writing a witty and insightful autobiography, Backstage Passes And Backstabbing Bastards.
The last decade has found the Indefatigable One bouncing from one interesting gig to another, whether it's joining Dylan for a concert or two; playing organ during a gospel set at Woodstock II; co-producing a Harry Nilsson tribute album; teaching at the Berklee School of Music; writing articles and lecturing; and shepherding a couple of solo albums—the exceptional anthology Rare + Well Done and 2005's critically-acclaimed Black Coffee.
An incredibly gifted and soulful musician, a compelling raconteur and one of the music industry's true "good guys," Al Kooper is a deserving recipient for this year's TEC Les Paul Award.
2007 Al Kooper
---
Past recipients:
2006 Steve Miller
2005 David Byrne
2004 Jimmy Jam & Terry Lewis
2003 Bruce Springsteen
2002 Robbie Robertson
2001 Steely Dan
2000 Paul McCartney
1999 Sting
1998 Neil Young
1997 Stevie Wonder
1996 Brian Wilson
1995 Alan Parsons
1994 Herbie Hancock
1993 Peter Gabriel
1992 Bob Clearmountain
1991 Bob Ludwig
---