2006 Les Paul Award:
Steve Miller
Named for one of the industry's most revered personalities, the Les Paul Award was created in 1991 to honor individuals or institutions that have set the highest standards of excellence in the creative application of recording technology.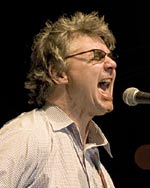 Musician/composer Steve Miller will be presented with the prestigious Les Paul Award, sponsored by Gibson Guitar Corp., at the 22nd Annual Technical Excellence & Creativity Awards, to be held Saturday, October 7, at the Hilton San Francisco. Presented by the Mix Foundation for Excellence in Audio, the TEC Awards recognizes outstanding achievement in professional audio production and product design.
Steve Miller's 40-year career since forming the Steve Miller Band at the height of San Francisco's psychedelic ''60s, boasts a wealth of compositions that have consistently outrun familiar genres with fresh and enduring sounds, becoming the new classics of American popular music. Incorporating jazz and blues styles with riveting pop melodies, Miller has produced a host of Top 40 hits such as The Joker, Fly Like an Eagle, Take the Money and Run, Jet Airliner, Rockin' Me and Abracadabra, as well as a number of Gold and Platinum albums. His innovative stage techniques such as quad sound, rear-screen projection and laser shows became standard practice of large arena concerts in the late '70s. With a ready embrace of a variety of musical traditions and a unique artistic vision, Miller's work exemplifies the creative application of audio technology honored and celebrated with the Les Paul Award.
"Steve Miller is one of the most recognized and profound musicians of our time," says Henry Juszkiewicz, chairman and CEO of Gibson Guitar Corp. "We are honored and thrilled that he is the recipient of this year's Les Paul Award." For the eighth consecutive year, the Les Paul Award is sponsored by Gibson Guitar Corp. of Nashville.
2006 Steve Miller
---
Past recipients:
2005 David Byrne
2004 Jimmy Jam & Terry Lewis
2003 Bruce Springsteen
2002 Robbie Robertson
2001 Steely Dan
2000 Paul McCartney
1999 Sting
1998 Neil Young
1997 Stevie Wonder
1996 Brian Wilson
1995 Alan Parsons
1994 Herbie Hancock
1993 Peter Gabriel
1992 Bob Clearmountain
1991 Bob Ludwig
---