2004 Les Paul Award:
Jimmy Jam & Terry Lewis
Named for one of the industry's most revered personalities, the Les Paul Award was created in 1991 to honor individuals or institutions that have set the highest standards of excellence in the creative application of recording technology.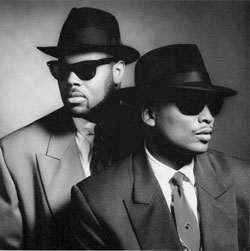 While playing with Prince, Minneapolis musicians Jimmy Jam & Terry Lewis started producing music for the S.O.S. Band, and rose with meteoric brilliance to become a production team extraordinaire, shaping R&B musical stylings for the past 20 years. Credited with every Janet Jackson record made, they've also crafted hits for Patti Austin, Boyz II Men, Mary J. Blige, Mariah Carey, TLC, Gladys Knight, Patti LaBelle, Klymaxx and a host of other artists. Starting two record companies, Perspective Records and Flyte Tyme Records, their own music publishing companies, several recording facilities, and scoring numerous film and television projects, Jimmy Jam & Terry Lewis are well deserving of the Les Paul Award. Sponsored by Gibson Guitar Corp., the award recognizes musical artists whose work has epitomized the creative application of audio technology.

2004 Jimmy Jam & Terry Lewis
---
Past recipients:

2003 Bruce Springsteen
2002 Robbie Robertson
2001 Steely Dan
2000 Paul McCartney
1999 Sting
1998 Neil Young
1997 Stevie Wonder
1996 Brian Wilson
1995 Alan Parsons
1994 Herbie Hancock
1993 Peter Gabriel
1992 Bob Clearmountain
1991 Bob Ludwig
---