Hearing & Education
The TEC Foundation for Excellence in Audio focuses its charitable activities on two principal causes: the advancement of hearing health, specifically efforts to inform both audio professionals and music consumers about the prevention of hearing loss in the music environment; and scholarships and grants for students of the audio, video and other communications media arts. The TEC Foundation takes pride in supporting a number of programs in both of these areas on an annual basis.
Individuals and organizations working in the field of hearing health, especially as it relates to the music and sound industries, are encouraged to contact us.
Amplified music, a source of entertainment and joy for millions, has also produced a serious public health problem: hearing impairment caused by playing and listening to music at excessive sound levels. The level at a typical rock concert may approach 120 decibels, or 30 dB more than that required to produce permanent hearing loss, and even a personal stereo may exceed 110 dB. In the face of this growing problem, the TEC Foundation for Excellence in Audio has formed partnerships with organizations that educate both audio professionals and music consumers about "safe hearing."
Since 1986 the TEC Foundation has supported the work of the House Research Institute (HRI) of Los Angeles, one of the world's most prestigious nonprofit organizations devoted to advancing hearing science through research and education to improve quality of life. While its leading-edge research continues to produce new treatments for hearing loss and related disorders, prevention remains a vital component of HRI's educational mission. With the TEC Foundation's support, HRI founded Sound Partners™, a hearing health outreach program to the music and sound production community. Through its video, print and online materials, seminars, free hearing testing at trade events, and research studies, Sound Partners has significantly raised awareness of hearing health and hearing loss prevention among audio and music professionals.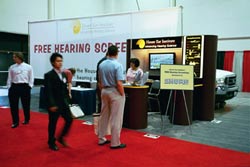 In 2005, HRI took the message of safe hearing to audio consumers at high risk for noise-induced hearing loss: teenagers who enjoy loud music and video. This young sector constitutes the largest percentage of concertgoers and users of MP3 players and other personal audio devices. The new campaign, titled "It's How You Listen That Counts," is reaching out to teens through MTV, Yahoo Networks and other media, and a new educational Website, www.earbud.org. HEI has made a substantial commitment to analyzing the values and interests of today's youth market so that its hearing health message can connect to them in an effective way.
For more information about the House Research Institute, its programs and services, please visit www.hei.org. You can reach Sound Partners directly at www.hei.org/education/soundpartners or info@soundpartners.org.
H.E.A.R.


H.E.A.R. (Hearing Education and Awareness for Rockers) is a nonprofit public benefit organization 501(c)(3) established in 1988 (San Francisco, CA) with the support of founding donor Pete Townshend of the Who. H.E.A.R. is dedicated to the prevention of hearing loss and tinnitus among musicians, sound artists, other music professionals and all music fans through education and grassroots advocacy.

H.E.A.R. provides onsite seminars and training/education outreach programs to public schools and colleges, music and sound arts institutes, music conservatories, music camps and workplaces; and also offers hearing services and referrals for musicians via its H.E.A.R. Partner network of audiologists and ear doctors (Hearnet.com) and grassroots
H.E.A.R.ing education awareness campaigns.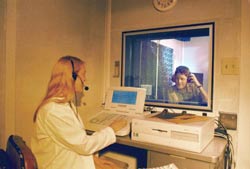 Listen Smart: Safely Handling the Power of Sound, produced by Dan Beck, is the latest H.E.A.R. educational rockumentary DVD, and features artists Ozzy Osbourne, Metallica and Moby.

For more information about H.E.A.R. or to contact Co-founder and Executive Director Kathy Peck, visit:
• Web: Hearnet.com
• FaceBook: HEARnetOfficial
• Twitter: @hearnetdotcom
• Causes: www.causes.com/HearnetOfficial
Since its inception, the TEC Foundation has recognized and supported schools and programs that educate future audio, music and other communications media professionals. The Foundation endows scholarships at leading colleges and universities throughout the U.S, including Berklee College of Music, Ex'pression College for Digital Arts, Middle Tennessee State University, University of Massachusetts Lowell, University of Miami and University of Southern California. The Foundation also provides annual student grants to the Audio Engineering Society Educational Foundation and the Society of Professional Audio Recording Services (SPARS). Schools and educational programs wishing to set up a scholarship program in the name of the TEC Foundation should contact us for more information.
The TEC Foundation has also established the TEC Awards Scholarship, which is awarded each year to advance the education of two or three students in audio, music or other media communications arts.
The TEC Awards offers a scholarship grant (or grants) to undergraduate students in audio and other media education programs. Recipients are selected by the board of directors of the TEC Foundation for Excellence in Audio and are announced each fall following the TEC Awards
Scholarship applications are not being accepted at this time. However, please check this page for future announcements.