2002 Les Paul Award:
Robbie Robertson
Named for one of the industry's most revered personalities, the Les Paul Award was created in 1991 to honor individuals or institutions that have set the highest standards of excellence in the creative application of recording technology.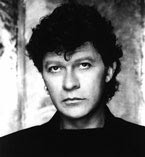 If he had never played another note of music after The Band's triumphant Last Waltz concert more than 25 years ago, Robbie Robertson's place in the pantheon of rock greats would have been secure. After all, as the de facto leader and principal songwriter of The Band, he was responsible for making some of the most memorable music of the late '60s and early '70s. The Band started as a backup group for rock pioneer Ronnie Hawkins, then helped steer Bob Dylan toward his electric epiphany, but took flight on their own with the groundbreaking 1968 Music from Big Pink album, which established their rootsy, eclectic sound, steeped in a timeless musical Americana (though all but one member The Band were Canadian). It was one of the first major albums recorded in a home studio, and the group's next masterpiece, titled simply The Band (or "The Brown Album") also had a homegrown sound and feel that was extremely influential at the time. That was their commercial breakthrough—with songs like "Rag Mama Rag," "Up On Cripple Creek" and "The Night They Drove Old Dixie Down" becoming FM radio staples. Over their next few albums, Robertson expanded his vision even more, dipping into New Orleans rock and other styles, until the group disbanded shortly after their famous finale at Winterland Arena in San Francisco on Thanksgiving night in 1976, immortalized in Martin Scorcese's wonderful film, The Last Waltz.
The end of touring with The Band marked a new beginning for Robertson. He successfully branched out into acting and film scoring, and in 1987 released his acclaimed solo debut album, produced by Daniel Lanois. His 1991 album Storyville showed that his songwriting chops had not faded one bit, while his sonic palette had actually expanded greatly. Robertson had always been deeply involved in the recording of both The Band's and his own albums, and by the late '80s he had his own room at The Village in L.A. to work on his projects. In the mid-'90s, Robertson's music took another fascinating turn when, drawing on his own Mohawk heritage, he composed music for a television mini-series called The Native Americans. That led quite naturally to a well-received Native American-themed album called Contact From the Underworld of Red Boy in 1998. Wherever Robertson's remarkable musical journey takes him next, we can rest assured that it will be to some deep and soulful place that seems far, far away, yet also exists in every one of us.
2002 Robbie Robertson
---
Past recipients:
2001 Steely Dan
2000 Paul McCartney
1999 Sting
1998 Neil Young
1997 Stevie Wonder
1996 Brian Wilson
1995 Alan Parsons
1994 Herbie Hancock
1993 Peter Gabriel
1992 Bob Clearmountain
1991 Bob Ludwig
---