2003 Les Paul Award:
Bruce Springsteen
Named for one of the industry's most revered personalities, the Les Paul Award was created in 1991 to honor individuals or institutions that have set the highest standards of excellence in the creative application of recording technology.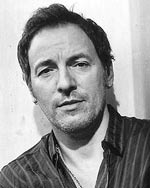 When one thinks of artists who have used the studio as their main instrument, names like Stevie Wonder, Prince, Jeff Lynne, and Todd Rundgren come to mind. Bruce Springsteen, on the other hand, is more often regarded as a singer, songwriter, hit-maker, and working-class hero than an innovator of the recording arts.
Nevertheless, those who have worked closely with Springsteen attest to his exacting sense of sound and his uncanny ability to inspire the engineers around him to perform at the height of their craft. In fact, some of the most gifted studio professionals in the industry say that Springsteen has taught them important lessons about recording, mixing, and simply listening.
"I've learned a lot from Bruce about songs," says Bob Clearmountain, who has mixed some of Springsteen's biggest hits, including the album Born in the U.S.A. "My mixing improved from working with him. We'd get in long discussions about what the songs were about, who the character was, and capturing the feeling of the song. I tended to get a picture in my mind of who the person was in the song, where he was and what the mood was, what was going through his head."
Springsteen is so effective at getting his message across in his music that even engineers who are hired primarily for their technical skills, like mastering veteran Bob Ludwig, are sometimes rendered senseless by the power of the artist's work. Accordingly, Ludwig—who has worked on every Springsteen release since 1982's Nebraska—has learned to allow time to listen to any new Springsteen album in solitude before he invites the artist and producers Jon Landau and Chuck Plotkin into the studio. "Sometimes when listening to Bruce's stuff I'll be bawling my eyes out, like when I first heard The Rising," recalls Ludwig. "You have to move past that stage to be objective. When you're making the final judgment on someone's recordings you can't be crying all over the console!"
Ludwig, who has worked with his share of rock stars and pop divas over the years, says Springsteen stands out for his Zen-like approach to the recording process. "Every nuance that Bruce wants he gets. And yet, I don't know if it's because people are so eager to please him or because his attitude is so laid back, but he makes the process pleasant for himself and those around him. He is very much at one with his material." Toby Scott, Springsteen's engineer for a quarter century, agrees. "Bruce is a wonderful guy to work with. He's very easygoing and understanding. He's not a temperamental problem child in the studio. He's real comfortable with it."
Perhaps the secret to Springsteen's mystique is that he knows his limits and empowers those around him to work their magic on his recordings. However, at the end of the day, Bruce is in charge, making all the final decisions in a resolute, if unassuming, way.
2003 Bruce Springsteen
---
Past recipients:
2002 Robbie Robertson
2001 Steely Dan
2000 Paul McCartney
1999 Sting
1998 Neil Young
1997 Stevie Wonder
1996 Brian Wilson
1995 Alan Parsons
1994 Herbie Hancock
1993 Peter Gabriel
1992 Bob Clearmountain
1991 Bob Ludwig
---