29th TEC Awards
Hall of Fame Inductees
Hal Blaine and John Meyer

The TEC Awards Hall of Fame was created in 1988 to recognize those individuals, living or deceased, whose careers have best exemplified the spirit of creative and technical excellence in professional recording and sound.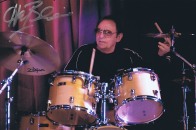 Question: What musician has racked up the highest number of recorded hits? Was it Michael Jackson? The Beatles? Madonna? Elvis?
All wrong. That title goes to no one other than supersession drummer Hal Blaine. From the 1950's through the 1980's Hal performed on over 35,000 documented recording sessions, adding drums and percussion to more than 350 top ten songs, and over 40 #1 Billboard chart hits. No other session player comes close to the wide variety of genres where Hal provided the heart beat, and often the hook – from the Ronettes to the Beach Boys, from Elvis to the Tijuana Brass.
Hal Blaine – born Harold Simon Belsky in Holyoke, Massachusetts on February 5, 1929 – is legendary for his work as the core element of the famed Wrecking Crew. Dubbed the Wrecking Crew because of their ragtag and new generation habits, they started out as Phil Spector's "Wall of Sound" and soon became the go-to rhythm section for seemingly all of the hits pouring out of the Hollywood recording studios in the 60's.
As an A+ session musician in the Golden Age of pop and rock music, Blaine played on hits by music's most influential artists and groups, including Frank Sinatra, Elvis Presley, John Denver, the Ronettes, Simon & Garfunkel, the Carpenters, Jan and Dean, the Beach Boys, The Mamas and the Papas, the 5th Dimension, and even Steely Dan. Hal's credits include seven Grammy Records of the Year, six of them in consecutive years.
Hal is a member of the Rock & Roll Hall of Fame, the Musicians Hall of Fame and Museum, the Percussive Arts Society Hall of Fame, and is widely regarded as the most prolific drummer in recorded music history.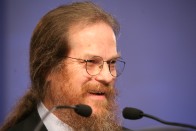 John Meyer is president and CEO of Meyer Sound Laboratories, Inc. Born in 1943 in Oakland, Calif., Meyer had already handled worked on the Steve Miller Band's sound at the Monterey Pop Festival in 1967 when he attracted public attention with his invention of the intriguing Glyph loudspeaker, which Stewart Brand described in The Last Whole Earth Catalog as "the first loud sound I ever heard that didn't make me want to run."
In the mid-70's, Meyer was invited to help establish an acoustics laboratory at the Institute for Advanced Musical Studies in Switzerland, where he began his pioneering work on low-distortion horns and integrated, large-scale loudspeaker systems. Since founding Meyer Sound in Berkeley, Calif., in 1979, Meyer has focused his efforts on research and development projects covering a broad spectrum of audio technologies surrounding the design, manufacture, and use of loudspeakers.
Working with a group of dedicated engineers, John has contributed to a long list of breakthrough developments that have earned the company 40 U.S. and international patents as well as numerous industry awards. Always dedicated to the satisfaction of the audience as his highest goal, Meyer has worked closely with artists, sound designers, and venues of the highest caliber through the '80s and '90s and into the 21st century to develop and implement Meyer Sound's products, which are generally considered the "Rolls Royce" of loudspeakers.
Among Meyer's more notable achievements are dedicated loudspeaker processing, arrayable trapezoidal cabinets, advanced phase correction circuits, SIM™ source independent measurement systems, self-powered studio monitors and sound reinforcement loudspeakers, wide bandwidth parabolic transducers, directional subwoofers, and PSAC™ (Pressure Sensing Active Control) as incorporated in the X-10 linear control room monitor.
John Meyer is a Fellow of the Audio Engineering Society (AES). Meyer is also a proud recipient of AES's Silver Award, as well as an R&D 100 award for advanced developments in electroacoustical measurement. Golden Strings of the Sarode, a recording he engineered was nominated for a Grammy in 2007. Today, Meyer Sound has about 300 employees and remains independent, privately-owned, and operated by Meyer and his wife, Helen, the company's executive vice president.
Past Winners:
2012 Rose Mann
Cherney
2008 T Bone Burnett
2007 Ed Greene
2006 David Hewitt
2005 Arif Mardin
2004 George Lucas &
Elliot Scheiner
2003 Eddie Kramer
2002 Geoff Emerick
2001 Roy Halee
2000 Sam Phillips
1999 Tom Dowd
1998 Colin Sanders
1997 Al Schmitt
1996 Willi Studer
1995 Phil Spector
1994 Frank Zappa
1993 Rudy Van Gelder
1992 Bob Moog,
Bill Porter,
Phil Ramone
1991 Ray Dolby, Bill
Putnam, Bruce
Swedien
1990 Deane Jensen,
Quincy Jones,
George Massenburg
1989 Wally Heider,
George Martin,
Rupert Neve
1988 Bob Liftin,
Les Paul
---