2012 Hall of Fame
Inductee Rose Mann Cherney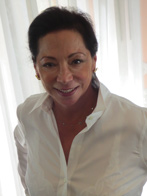 photo: Karen Dunn
The TEC Awards Hall of Fame was created in 1988 to recognize those individuals, living or deceased, whose careers have best exemplified the spirit of creative and technical excellence in professional recording and sound.
Rose Mann Cherney didn't set out to be in the studio business, but more than 30 years after she began, she is still at it as a principal with the renowned Record Plant Studios in Los Angeles. It was a chance meeting with her friend—musician, composer and producer Al Kooper—that led to a job interview with Record Plant owners Chris Stone and Gary Kellgren, who needed someone to run the studio's front desk and book sessions. Intending to stay for a short time, it wasn't long before she found herself hooked, becoming first studio manager, and ultimately company president and partner. Today Rose is responsible for Record Plant L.A's overall operation as well as maintaining its stellar reputation as one of the world's top recording studios.
It is the title Studio Manager, however, that will forever be linked to the name Rose Mann Cherney, a job she helped define by bringing a level of concierge service and personal attention to detail that remains unmatched in the industry.

"Her focus has always been all about technical excellence combined with the service level of a 5-star hotel, a formula that has kept Record Plant on top for many years," says Record Plant CEO and owner Rick Stevens. "She has had a profound influence as a studio executive and has literally changed the way modern recording studios operate. It's always been about the way she treats each client and her uncanny ability to build the team to serve them."
Mann Cherney's attention to her team has meant helping protégés launch their own careers, taking assistant engineers under her wing, and remaining as tenacious about protecting her runners as she is about serving her artists, producers and engineers. Many major figures of the music industry got their start as a Record Plant runner or junior engineer, and Rose has shown them the way. As the first female president of a major recording studio, as well as the first woman to be inducted to the TEC Awards Hall of Fame, Rose Mann Cherney has also illuminated the path for a generation of women working in the studio business.
See Rose's acceptance speech on

Past Winners:
2008 T Bone Burnett
2007 Ed Greene
2006 David Hewitt
2005 Arif Mardin
2004 George Lucas &
Elliot Scheiner
2003 Eddie Kramer
2002 Geoff Emerick
2001 Roy Halee
2000 Sam Phillips
1999 Tom Dowd
1998 Colin Sanders
1997 Al Schmitt
1996 Willi Studer
1995 Phil Spector
1994 Frank Zappa
1993 Rudy Van Gelder
1992 Bob Moog,
Bill Porter,
Phil Ramone
1991 Ray Dolby, Bill
Putnam, Bruce
Swedien
1990 Deane Jensen,
Quincy Jones,
George Massenburg
1989 Wally Heider,
George Martin,
Rupert Neve
1988 Bob Liftin,
Les Paul
---