TECnology Hall of Fame 2007
Induction Ceremony: October 5, 2007
AES Convention, Javits Center, New York City
The TEC Foundation for Excellence in Audio established the TECnology Hall of Fame in 2004 to honor and recognize audio products and innovations that have made a significant contribution to the advancement of audio technology. Inductees to the TECnology Hall of Fame are chosen by a panel of more than 50 recognized audio experts, including authors, educators, engineers, facility owners and other professionals. Products or innovations must be at least 10 years old to be considered for induction.
1919 Leon Theremin—The Theremin
1925 Chester Rice & Edward Kellogg, General Electric Co.—Modern Dynamic Loudspeaker
1940 Dr. Walter Weber—AC Tape Bias
1956 Neumann—Neumann Stereo Disk Lathe
1957 Stefan Kudelski—Nagra III Tape Recorder
1958 Cannon—XLR Connector
1959 Rein Narma—Fairchild 670 Compressor Limiter
1967 Crown International—DC 300 Power Amplifier
1970 Rupert Neve—Neve 1073 Console Module
1971 AKG—C-414 Condenser Microphone
1972 MCI—JH-400 Series Inline Console
1975 Eventide—H910 Harmonizer
1976 EMT—250 Digital Reverb
1978 3M—Digital Audio Mastering System
1981 Sony—PCM-F1 Digital Recording Processor
AUDIO INNOVATIONS THAT CHANGED PRO AUDIO
By George Petersen
Edison's first cylinder recorder was born 130 years ago, and while other technologies—from automobiles to aerospace—emerged in that era, audio is what counts for us true devotees. Unfortunately, the history of pro audio is woefully neglected, with sources scarce, if not impossible to find.
An offshoot of the TEC Awards, the TECnology Hall of Fame began in 2004 to spotlight significant innovations in pro audio history.
Selecting a few inductees from a more than a hundred years of heritage is not easy. A committee of more than 50 industry leaders, engineers, producers, educators and journalists volunteered to help pick audio innovations—the only "rule" being that any selection must be at least 10 years old. Bear in mind that the TECnology Hall of Fame is a continuing project and more honorees will be added in the future. Listed chronologically, here are the 15 entries for 2007: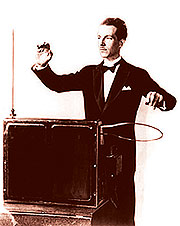 Who would believe an innovative electronic musical instrument developed in 1919 could maintain its massive cult status and popularity after nearly 90 years? However, the Theremin is no ordinary instrument.
Created by Russian physicist Lev Sergeivich Termen (also known as Leon Theremin), the Theremin is described in its U.S. patent (# 1,661,058) as a "novel method of and means for producing sounds in musical tones or notes in variable pitch, volume and timbre." The key word here is "novel," as the system consists of two oscillator circuits where amplitude and frequency are controlled by the proximity of the user's hands to the Theremin's two antennas, with no need to actually touch the instrument.
Over the years, there have been numerous serious Thereminists, yet the instrument is best known for creating outerworldly effects and music for horror and science fiction films ranging from the classic The Day the Earth Stood Still to countless budget releases. A common myth is that a Theremin was used on the Beach Boys' "Good Vibrations." The instrument was actually a Tannerin (Electro-Theremin) played by trombonist Paul Tanner, which uses a similar technology, but substitutes a hardware slide controller for the antenna.
One well-known Theremin fan was the late synthesis pioneer Bob Moog, who built the units for decades and sold completed systems and kits through Moog Music (www.moogmusic.com). Moog also published a DIY Theremin project in the Feb., 1996 issue of Electronic Musician magazine.

CHESTER RICE & EDWARD KELLOGG, GENERAL ELECTRIC CO.
MODERN DYNAMIC LOUDSPEAKER (1925)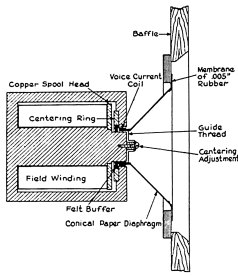 Timing is everything and the development of the modern dynamic loudspeaker by two General Electric engineers—Chester W. Rice and Edward W. Kellogg—was right on time. In a landmark article, "Notes on the Development of a New Type of Hornless Loudspeakers," published in the Sept. 1925 edition of AIEE Transactions, these two General Electric engineers describe what we know consider the roots of modern loudspeaker technology.
After testing numerous materials and approaches, Rice and Kellogg suggest a lightweight (paper) conical diaphragm attached to a coil of wire that's energized by a large magnet structure. In this proposal, the latter was an electromagnet, as an affordable alternative to the great expense of large permanent magnets in those days. Beyond simply describing a new type of transducer, the pair lay out many of the basic tenets of loudspeaker design, such as detailing the importance of the baffle in preventing the "circulation" of the sound from the speaker's forward and backward motion. Rice and Kellogg also discuss the need for more powerful amplifiers to provide adequate headroom required for quality reproduction, noting that before the "full benefit of a high grade loud speaker may be realized, it is important that the amplifier which goes with it should have sufficient capacity to give a natural volume or intensity."
The Rice/Kellogg electro-dynamic speaker design was licensed to RCA, which incorporated it into its successful Radiola line.
WALTER WEBER
AC TAPE BIAS (1940)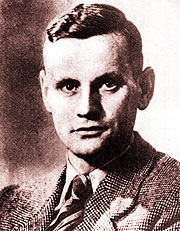 Born 100 years ago, Dr. Walter Weber was a Siemens engineer who was recruited by Dr. Hans Joachim Von Braunmühl to work for Reichs-Rundfunk-Gesellschaft (German Broadcasting) in 1932. While at RRG, von Braunmühl assigned Weber to look into means of improving the performance of AEG Magnetophon tape recorders.
However, with the introduction of BASF's ferric-oxide tape in 1939, the Magnetophon was approaching broadcast standards and one of Weber's interests was the application of bias currents. Earlier research (such as by Americans Wendell Carlson and Glenn Carpenter in 1921) had shown that adding a high frequency AC bias signal could raise the quality of magnetic recording, but given the poor performance of wire recorders, the improvement was minimal.
During experiments with a DC biasing scheme in the spring of 1940, Weber inadvertently applied a AC current to the recording chain, leading to his rediscovery of the benefits of AC biasing. The effect was dramatic, offering a 10dB improvement in the Magnetophon's noise floor.
Weber filed a patent (German #743,411) on July 28, 1940, and the AC biasing technology was licensed to AEG, who incorporated it into its Model K4 HF-Magnetophons that launched a year later. And with a frequency response of a then-astonishing 10kHz, tape recording was on its way to eventually become the world production standard.
Interestingly, one of Weber and von Braunmühl's design projects had nothing to do with tape. In 1935, they filed a patent for the Braunmühl-Weber dual diaphragm capsule, the first unidirectional condenser mic, which eventually became the Neumann M7 capsule used in the U47. In July of 1944, at age 37, Walter Weber suffered a fatal heart attack, but his legacy lives on.
NEUMANN
NEUMANN STEREO DISK LATHE (1956)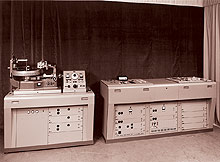 In 1953, Neumann engineers began developing the AM 32, a disk lathe with the ability of varying the groove pitch, controlled by the amplitude of the input signal, rather than a constant pitch. By mounting a preview head on the source tape deck, its signal could be fed to the lathe's drive, which made a small adjustment in the groove spacing approximately one-half rotation before the cutterhead received that same signal from the playback head.
Co-developed with Teldec (a joint venture of English Decca and German Telefunken), the Neumann ZS 90/45 stereo cutterhead arrived in 1956 and combined vertical and lateral recording in a V-shaped groove, each slope set at an angle of 45 degrees. The ZS 90/45 was driven by the VG1 (Verstärkergestell Eins) cutting electronics with two 60-watt tube amps.
Besides controlling groove pitch, the system's SA 32 carriage could also use the difference between the left and right signals to modulate the depth of the cut and also adjusted the groove pitch based on the depth of the cut, as deeper cuts require wider grooves. This first electrodynamic feedback stereo cutterhead system set the stage for the world-standard SX 45, SX 68, SX 74 and SX 84 cutterheads that followed.
STEFAN KUDELSKI
NAGRA III TAPE RECORDER (1957)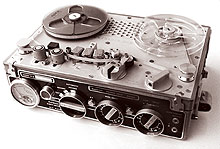 Born in 1929 in Warsaw, Stefan Kudelski was only 10 when his family fled Poland, to Hungary and France, and finally settling in Switzerland in 1943. After completing his college studies, he founded the Kudelski company in 1951 and began creating the Nagra (the name means "will record" in Polish) portable recorder. Designed for high-quality portable recording, the initial Nagra I and II models were driven by a wind-up clockspring mechanism.
The breakthrough came in 1957 with the Nagra III, a compact, 11-pound mono 3.75/7.5/15 ips reel-to-reel deck. With 12 D cell batteries powering its DC servo-controlled motor and Germanium transistor electronics, the Nagra III's performance could rival much larger studio machines. The deck's rugged aluminum chassis and "Modulometer" peak-reading level meter appealed to pros who needed a dependable, near-indestructible location recorder.
With updates, such the addition of Neopilot sync in 1963, the Nagra III soon became the standard for location film recording and received an Award of Merit from the Academy of Motion Picture Arts and Sciences in 1965. After an 11-year span, the Nagra III was eventually replaced with the Nagra IV in 1968 and the Models 4.2 and stereo IV-S in 1971.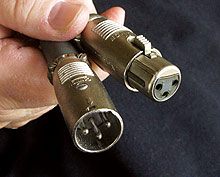 Originally, the XLR was intended for aircraft and instrumentation applications—rather than audio—but we're glad it's here. In use for balanced pro audio for nearly 50 years, the three-pin versions of Cannon's XLR connector are so ubiquitous in both analog and digital (AES/EBU) connections that most people in our industry don't even remember those pre-XLR days. Once upon a time, audio gear was fitted with whatever the manufacturer deemed appropriate, with DIN and Tuchel connections common in Europe and various Amphenol types in the states.
The move to Cannon's XLR design wasn't exactly an overnight success, taking at least 15 years, but it provided a universal solution, where a mic cable could double as a line cable and two cables could be connected to make a single, longer cord. The XLR name stems from being Cannon's "X" Series, with a latching/locking "L" feature and having an elastomeric/rubber "R" insulator.
Besides the common three-pin XLR-3M (male) and XLR-3F (female ) connectors in audio jacks and inline plugs, other XLR types common to audio include 4-pin types for intercom and 12-volt power connections, 5-pin stereo mics and various multipin configurations for tube mics/surround mics/etc. Today, XLR-style connectors are available from many sources, including the original—now ITT Cannon.
REIN NARMA
FAIRCHILD 670 COMPRESSOR LIMITER (1959)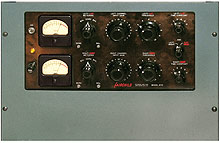 The Fairchild 670 is often referred to as the "holy grail" of outboard devices for its rarity, value (currently about $30,000 on the used market) and usefulness in a wide variety of studio situations. And this hand-wired stereo unit is a beast, with 20 vacuum tubes (21 if you include the 5V4 rectifier) and 14 transformers tucked within its 65-pound chassis.
The origins of the 670 (and mono 660 version) are fairly humble, coming from Estonian-born Rein Narma. In the post-war years, this refugee from Soviet Russia worked for the U.S. Army as a broadcast/recording tech during the Nuremberg trials, later immigrated to the New York and took a job at Gotham Recording. Narma and several others founded Gotham Audio Developments, to build recording gear. Les Paul hired him to modify his first 8-track and later Narma built consoles for Rudy Van Gelder, Olmsted Recording and Les Paul, who also asked him to build a limiter. After beginning the project, Sherman Fairchild heard about it, licensed the design and hired Narma as the company's chief engineer.
CROWN INTERNATIONAL
DC 300 POWER AMPLIFIER (1967)
In many ways, the 1967 introduction of the AB+B-class DC 300 ushered in the era of the modern, high power amplifier. Offering 340 watts/channel (at 4 ohms), this 4-rackspace, 40-pound beast came in at less than the "magic" $1/watt price point, based on its original $685 retail. And with its rock-solid construction, and internal thermal and V-I protection modes, the DC 300 was the ideal solution for high-end consumers, high-SPL studio monitors and live sound systems coming into vogue with the summer of love.
Yet through it all, someone at Crown has always maintained a sense of humor. The original service manual for the DC 300 is entitled "300 Watts and a Cloud of Smoke" and its introduction includes advice such as "try to avoid going to sleep while reading the rest of this manual."
Years later, a DC 300 was immortalized in a magazine ad that showed the unit half-submerged in a muddy field, based on a real story:
"In the early evening of September 17, 1973, Jay Barth was at the wheel of a 22-foot utility truck that was loaded with sound equipment. Just north of Benton Harbor, Mich., an oncoming car crossed the center line; fortunately, Jay steered clear of the impending collision. Unfortunately, a soft shoulder caused the truck to roll two and one half times. Exit several DC 300As through the metal roof of the truck's cargo area. The airborne DC 300As finally came to rest—scattered about in a muddy field, where they remained partially submerged for four and a half hours. Jay miraculously, escaped injury; the amplifiers apparently had not. Unbelievably, after a short time under a blow dryer, all the amps worked perfectly and are still going strong. The rest—and the truck—is history."
Even today, some 40 years after their original introduction, many DC 300s are still used in professional audio applications, a testament to Crown reliability.
RUPERT NEVE
NEVE 1073 CONSOLE MODULE (1970)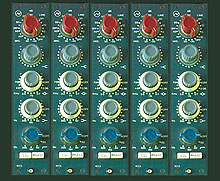 In 1970, Rupert Neve designed the first 1073 mic preamp module for a new A88 console for Wessex Studios. It became a legend, still widely regarded as one of pro audio's best preamplifiers. The Class-A design 1073 mic/line preamp has three EQ bands (a fixed 12kHz HF band and switchable-frequency LF/MF cut/boost bands) and a passive -18dB/octave high pass filter with 50/80/120/160 Hz steps. EQ bypass and "phase" (polarity) switches are also standard.
Designed as 80-series console modules and not originally intended for standalone use, Neve's 1073s and 1084s were often removed from older consoles and put into third-party racks and housings. The circuit has been widely imitated and cloned (in both hardware and software) and the Neve company now offers recreations of the 1073 in rack and module form.
But according to Rupert Neve, the secret to the original 1073's success was transformers: "I've thought about this a lot," Neve recalls, "and it had to be in the input and output transformers and that way in which the response rolls off. If you take a very large rise time signal and throw it at a stage that's not man enough to take it, you get slew rate problems. There are few things that sound more elusive or worse than slew rate problems—it just doesn't sound right, with a soggy sound. What we did with the transformers was to build them out like filters to the maximum that we could squeeze out in terms of high frequency response and then make sure they rolled off smoothly—with no peaking or things of that sort."

AKG
C 414 CONDENSER MICROPHONE (1971)
The availability of reliable, quality Field Effect Transistors in the 1960s opened the door for replacing tube mics with compact, solid state models. In 1970, AKG's Karl Peschel took the CK 12 capsule from the C 12A Nuvistor tube mic and paired it with FET electronics, resulting in the C 412. A year later, adding a second bass rolloff position and a fourth polar pattern created the C 414 comb.
From 1974 onwards, engineer Norbert Sobol supervised the C 414 design, adding numerous improvements in audio performance and features along the way. These included the C 414 EB (1976), C 414 EB-P 48 (1980), models C 414 B-ULS and –TL (1986), C 414 B-TL II (1993) and the current C 414 B-XLS and –XL II.
With well over 100,000 sold, the C 414 remains a popular choice whether in earlier versions or the latest models—now updated with LED displays and a fifth (wide cardioid) pattern.
MCI
JH-400 SERIES INLINE CONSOLE (1972)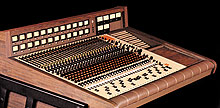 MCI Electronics founder Grover C. "Jeep" Harned was a pro audio innovator, from the first 24-track recorder—a modified Ampex 300 in 1968—to the tape Auto Locator (1972) and commercializing the inline console. Credit for the first inline-style console designs actually goes to Dan Flickinger, who designed a number of custom mixers that put tape monitoring within the channel modules, but had track assignments in a separate section. However, the popularity of the modern inline console stems from Nashville audio dealer Dave Harrison (later founder of Harrison Consoles), who approached Harned with this new approach to console design.
Harned and MCI engineer Lutz Meyer helped Harrison refine the JH-400. In a day when most studio consoles were custom, the JH-400s were revolutionary: They were standardized "production" models with a choice of user options and incorporated Harris 911 IC op-amps, thus lowering costs and simplifying manufacturing. The first JH-416 models offered 24 inputs/outputs with quad panning/monitoring, 3-band EQ and P&G faders. Options included a 32-input version, VCA grouping and automation and switchable peak/VU meters. The JH-400 (the "JH stood for Jeep Harned) offered an affordable pro console to the burgeoning studio industry and five years later, a 1977 Billboard poll gave MCI the leading share (14.3 percent) among studios. That same year, MCI unveiled the updated JH-500 series, which offered a four-band EQ, more sends/returns and plasma VU displays.
Harned sold MCI to Sony in 1982 and retired. He will long be remembered as a pioneer who made significant advancements to the state of pro audio.
EVENTIDE
H910 HARMONIZER (1975)

When you name a product after a Beatles tune (the model number refers to the "One After 909"), it better be good. However, when Eventide founder Richard Factor assigned his young designer Anthony Agnello (the company's first "degreed" engineer) to begin building a harmony processor in 1974, they had no idea that they'd be creating an audio classic of their own. The version they demoed at the AES show later that year didn't resemble the final product at all, with a music keyboard controller supported by a hand-wired box, but the reaction was universally positive, both among showgoers and Yes vocalist Jon Anderson, who tested the first prototype. Soon after (and with the keys controller offered as an option), the Harmonizer H910 was born.
"With memory for audio was just becoming possible, the H910 was the right box at the right time," says Agnello. Offering pitch shifting (±1 octave), delay (up to 112.5 ms), feedback regeneration and more from an easy-to-use $1,600 box, the H910 was a hit—an instant studio fave and still a legacy tool years later. Users soon found all sorts of applications, ranging from regenerative arpeggios to bizarre sound design effects to lush guitar or vocal fattening. The first customer—New York City's Channel 5—immediately put an H910 to work, downward pitch shifting "I Love Lucy" reruns that were sped up to squeeze in more commercials. "The Harmonizer could be used for good or evil," warns Agnello, "and the speeded-up sound of Lucy's occasional shrill shrieks was definitely evil. Taming that was a good thing."
Artists loved the Harmonizer's versatility. Frank Zappa put one in his guitar rack. Producer Tony Visconti used it for the memorable snare sounds on David Bowie's Young Americans; ditto for engineer Tony Platt on AC/DC's Back in Black. Eddie Van Halen had a pair (set to either 18-cents sharp and 18-cents flat with a 12ms delay on one side or +12c/-15c/18ms) as part of his trademark guitar sound. Tom Lord-Alge's setup for Steve Winwood's soulful vocals on "Back in the High Life" also employed two slightly detuned H910s (one sharp/one flat) with an 18ms spread. The twin Harmonizer effect was so popular that Eventide recreated it as the "Dual 910" program in the H3000 UltraHarmonizer that followed it a dozen years later.
EMT
MODEL 250 DIGITAL REVERB (1976)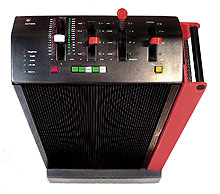 Considered one of the pioneers of digital audio, Barry Blesser helped launch Lexicon in 1971 and developed the EMT 250, the first commercial digital reverb, in 1976. EMT (Elektromesstechnik) was no stranger to reverb, having created the classic Model 140 plate system back in 1957 and the gold foil Model 240 in 1970. As Blesser had designed a number of EMT analog products in the early 1970s, the collaboration of EMT and Massachusetts-based Dynatron made sense.
Barry Blesser and Karl-Otto Bäder designed the algorithms (U.S. patent #4,181,820); Dynatron's Ralph Zaorski designed the digital hardware; and EMT built the converters, I/Os, power supply and the unique user interface, with its large upright chassis and rocket ship-style control levers for decay and delay. Its 400 ICs and 16K of memory of this one-in/four out unit required three fans and heat sinks covering the entire cabinet exterior. "We put the power supply on the outside and painted it red," Blesser recalls. "We took all the problems and turned them into unique signature symbols."
The EMT 250 carried a $20,000 price on its debut and some 250 units were produced, many of which are still in use today and valued for their effects and reverb sounds. A later model, the EMT 251, added an LCD readout, improved HF response and more flexibility, but the algorithm was not the same as the classic EMT 250.
© Peter Bermes (Bermes Design)
3M
DIGITAL AUDIO MASTERING SYSTEM (1978)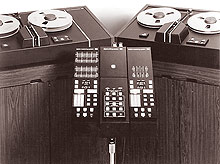 Best known for its lines of tape media and professional analog recorders, with its M series of multitrack and 2-track machines, the Mincom division of 3M spent several years developing a digital recording system, including two years of joint research with the BBC. The result was the 3M Digital Audio Mastering System, which consisted of a 32-track deck (16-bit, 50 kHz audio) running 1-inch tape and a 4-track, 1/2-inch mastering recorder.
Both decks operated at 45 ips, offering a 30-minute record time from a 7,200-foot, 12.5-inch reel or 45-minutes from a 14-inch, 9,600-foot spool. Perhaps the most curious aspect of the 3M system was its conversion scheme. As no true 16-bit converters were available, it combined separate 12-bit and 8-bit converters to create 16-bit performance.
Although the 3M system was a year away from actual deliveries, engineer Tom Jung (now of DMP Records) agreed to beta-test the prototypes at Sound 80 in Minneapolis, using them as a backup system during sessions being cut direct-to-disk—lacquer disk, not hard disk! The digital session tapes were judged superior to the disk masters, and in December 1978, the first commercial albums cut on the system were released: Flim & The BB's, by jazz group Flim & The BB's, and Aaron Copeland's Appalachian Spring, by the St. Paul Chamber Orchestra. The latter was nominated for three Grammy Awards, winning for Best Chamber Music Performance.
Priced at $150,000 ($115,000 for the 32-track and $35,000 for the 4-track), the first two-machine systems were installed in early 1979 at Sound 80 and in Los Angeles at A&M Studios, the Record Plant and Warner Bros.' Amigo Studios. Among the notable early pop releases cut on the 3M system included Ry Cooder's Bop Till You Drop (engineered by Lee Herschberg) and Donald Fagen's The Nightfly, engineered by Roger Nichols.
SONY
PCM-F1 DIGITAL RECORDING PROCESSOR (1981)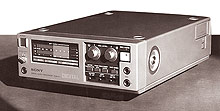 Once in a while, an audio product arrives that's a failure in the consumer realm (such as the DAT format or Yamaha's NS-10 speakers) but is a hit with pro recordists. Sony's PCM-F1 is one such example. Originally designed as a means for consumers to make digital recordings of CDs, FM broadcasts or home performances, the PCM-F1 debuted in 1981.
Essentially, the system combined a recording processor that used the EIAJ's (Electronic Industries Association of Japan) 14-bit PCM specification for digitizing audio and storing it as a video signal—essentially a moving monochrome barcode. The concept of a two-piece system (connecting a PCM processor to any VCR—Beta, VHS or U-matic—for recording) was unpopular with consumers, but at $1,900, Sony's PCM-F1 was a hit with studios. The Technics SV-P100 ($3,000) went one step further: It was a 14-bit EIAJ processor combined with a VHS transport. Years before DAT, it was the first digital audio cassette recorder, and Mobile Fidelity even released a few projects—such as Pink Floyd's Dark Side of the Moon—on stereo PCM VHS tapes.
PCM processors from Aiwa, Akai, Sansui, JVC and Technics rigidly stuck to the 14-bit EIAJ standard; only Sony's PCM-F1 as well as the later PCM-701/501/601 units and the Nakamichi DMP-100—a black-finish F1 with improved analog components—offered a choice of (switchable) 14/16-bit performance. Apogee Electronics once sold upgrades for replacing a PCM-F1's anti-aliasing filters with high-performance Apogee versions.
Recording on EIAJ digital processors had its ups and downs. Being video-based, the system recorded at 44.056 kHz rather than 44.1kHz and digital editing was difficult—at best—and only frame-accurate, requiring a high-end assembly editing rig with multiple synchronized decks. On the plus side, the processors had no moving parts, so a worn-out transport simply meant finding another VCR; and tape clones/backups could easily be made using two VCRs. And as the PCM-F1 had separate encode and decode circuitry, four-track, sound-on-sound recordings were possible using one processor and two VCRs (one designated as play/the other as record). Alternatively, one could make simultaneous 4-track recordings by combining the PCM digital tracks with a video deck's "Hi-Fi" tracks. This was great for live recordings where a board mix or close-in mics went digital and room ambience or mix position mics routed to the Hi-Fi tracks.
Paired with the optional SL-F1 Betamax deck, the PCM-F1 was the first portable, battery-operated digital recording system. A few brave souls—myself included—even went so far as to make multitrack recordings using two (or more) synchronized PCM-F1s. But one thing was certain: whether stereo or 4-track, the democratization of digital had arrived.
Mix executive editor George Petersen also runs a small record label (www.jenpet.com), and still owns several Sony PCM-F1s, but hasn't used them recently.
For more information, click here.